Display
Xiaomi Redmi Note 4 has a 5.5″ IPS LCD screen of 1080p resolution (401ppi) with no color shifting at an angle. The company promises 1000:1 contrast ratio and 72 coverage of NTSC color spectrum.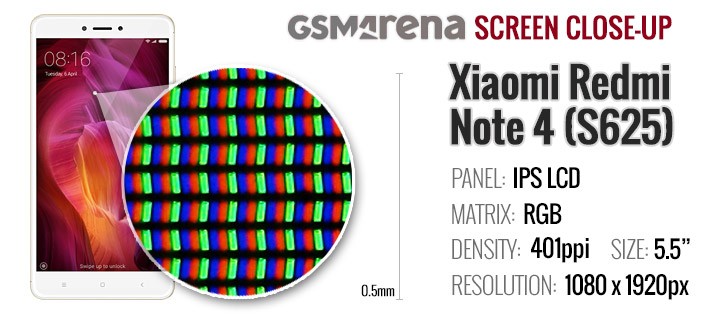 The Snapdragon-powered unit of Redmi Note 4 exceeds the display scores of both Redmi Note 3 and Redmi Note 4 with Helio X20. It has improved black levels and higher maximum brightness of 484 nits. These new tweaks have led to an excellent contrast ratio of 1503:1.
There's an Increased contrast mode, but that only changes the dynamic contrast on a per-image basis. It makes the photos look punchier and doesn't affect color accuracy.
Automatic brightness is available, but it doesn't boost the screen – 484nits is the highest you get.
When you drag the brightness slider all the way down, the Redmi Note 4 screen drops to just 2 nits. This is great for using the phone comfortably in the dark, and you can enable the Reading mode to reduce the amount of blue light in the evening. This mode can be set to trigger automatically for select apps – say, Amazon Kindle or other apps that involve a lot of screen time.
Display test
100% brightness
Black, cd/m2
White, cd/m2
Contrast ratio
Xiaomi Redmi Note
0.52
536
1016
Xiaomi Redmi Note 2
0.492
467
953
Xiaomi Redmi Note 3 (MediaTek)
0.42
403
953
Xiaomi Redmi Note 4 (X20)
0.38
439
1158
Xiaomi Redmi Note 4 (S625)
0.322
484
1503
Xiaomi Redmi 4 Prime
0.475
528
1112
Xiaomi Redmi 3s Prime
0.43
518
1205
Lenovo Vibe K5 Plus
0.44
441
998
Lenovo Moto M
0.3
425
1417
Xiaomi Mi 5s
0.51
660
1294
Xiaomi Mi 5s Plus
0.44
637
1448
Meizu M5 Note
0.614
463
754
Meizu m3 note
0.52
425
816
Meizu m3 note (int)
0.52
459
883
Meizu m3 max
0.46
449
976
Meizu M5s
0.426
407
955
Sunlight legibility is okay on the Redmi Note 4 Snapdragon Edition, and surprisingly much better than the Helio X20 model. It suffers from washed-out colors in the sun, but other than that you will be able to see what's happening on the screen quite well.
The colors themselves are fairly accurate by default with an average deltaE of 5.2 and a maximum of 9.8. The the whites and grays have a bluish tint, but other than that, the default Auto mode offers a good color presentation.
We tried setting the white balance slider and found that the Standard screen mode is the most accurate. The average deltaE drops to a very good 3.6 and the maximum to 6.8. This mode introduces a slight yellow tint, though, and shifts the white point towards warmer tones.
Battery life
The Xiaomi Redmi Note 4 has a 4,100mAh battery, the same as the Helio model, but the energy efficient Snapdragon 625 should help it achieve a better battery endurance. The Note 4 supports regular 5V/2A charging, which restores 25% of the battery in 30 minutes of charging, 95% in 2 hours, and 100% in 3h.
Indeed, the Snapdragon 625 chip lived up to our expectations. Combined with the large battery, the Redmi Note 4 easily scored one of the best results in our battery test with a 119-hour Endurance rating. It did a fabulous job in all tested scenarios – video, calls, web browsing and even stand-by performance.
The rating of 119 hours means you can rely on the Redmi Note 4 to last that long if you do an hour of 3G calls, web browsing, and video playback each day.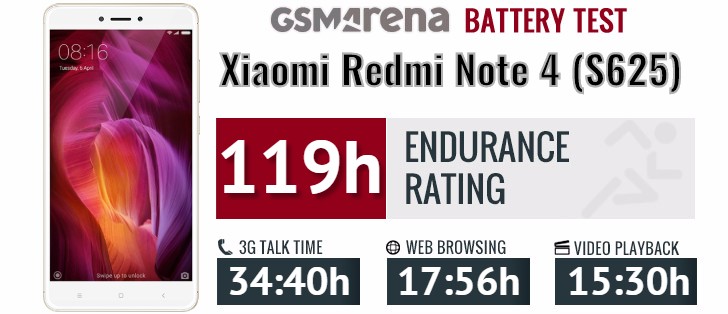 Connectivity
The Xiaomi Redmi Note 4 can be a dual-SIM phone if you'd like it to be – it really depends on whether you need extra storage.
If you do have two SIMs, a toggle in the settings selects which card will provide data over LTE. VoLTE is supported, soon it will replace 2G voice in busy city centers as it supports many more calls per cell.
Locally, you get fast Wi-Fi a/b/g/n/ac on 2.4GHz and 5GHz. Wi-Fi screen sharing is available too, also Bluetooth 4.1, but no NFC.
The IR blaster gives the Redmi Note 4 control over your equipment at home – including things like cameras (some DSLRs have IR remotes), fans (Xiaomi makes a smart fan, believe it or not) and others.
Finally, the Redmi Note 4 comes with FM radio, but it lacks RDS support.